Note to readers:  Today's post is from my daughter Aden Kirschner, who works with me at The Art Of Change,  and it's a great read!  I'll go ahead an answer the headline question.  YES!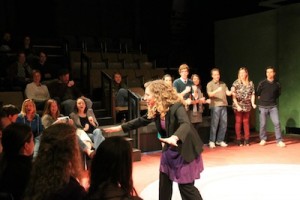 When I first began ongoing training with one of my bigger and better clients they explained to me that I should remove the word 'game' from my vocabulary when working with their employee base.  When I asked what the reason was, their reply was "these folks work hard. As an employee, I shudder to think that I spent valuable time on games when I could have been working on my budgets, presentations, forecasts etc…"
Well as you can imagine, their simple feedback was an incredible eye-opener for me.  Here, a client had hired me for my skills and training specific to the world of improv theater and comedy, and yet they wanted me to eliminate any hint of game, play, or fun from the experience when those things are an integral part of what I do!  This left me sitting with the question, 'what's so terrible about fun?'
As my creative partner Shana and I discussed what we should do, she suggested we answer a different question than what I had on my mind, and instead address 'what's valuable about fun?' and in answering that question (and having our clients answer that question for themselves) we were able to not only keep our vocabulary, but build trust in the process of dynamic, and yes playful, training while building up our relationship with this and future clients!
{ 0 comments }