#UA1011 Houston to Cancun, abusive flight attendant, good story of bad behavior, #thatsnowaytotreatpeople, #UAUnfriendlySkies, #utalktoyourmotherthatway, #whyflyingsucks, #icantquitflyingsoonenough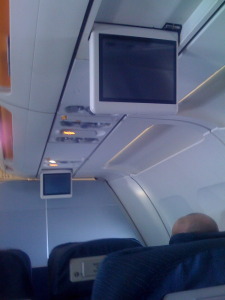 Unfriendly Skies Indeed
I'm on vacation in Mexico, it's a beautiful day, and I've got a(someone else's) story to tell anyway.
You see, I was having breakfast with my wife in our vacation beach town in Mexico this morning when I hear a terrible tale about a rude and abusive flight attendant on flight UA1011 out of Houston this very day, December 14, 2014. Though the incident didn't involve me or anyone I know personally, and has no real impact on my life (Did I mention, I'm on vacation?) other than confirming my decision to stop flying as soon as possible,  I think United Airline's (UAL)  executives should know about this story of bad behavior on the part of their flight attendant and the flight attendant should be held to account.
So please, if after reading this story of injustice you also feel moved,  tweet it. Put it on your Facebook.  Ask your friends to do the same.  Let's see if we can get United Airlines to care, and to actually do something about it. Help me spread the word about this one incident, and see if we can make a difference. Now, here's the story:
An American named Bill who lives in Mexico part of the year and only flies 2 or 3 times a year, boarded his flight from Houston to Cancun this morning after paying to upgrade his seat to first class. He was assigned seat 3E, and boarded the flight.
{ 6 comments }